perfect bridging to the robust FieldCast fiber optic cable
FieldCast 4K Custom Bundle
The fiber bundle for BMD Studio Camera 4K
If you want to run all signals of your Blackmagic Studio Camera 4K over just one fiber optic cable in a compact, safe and robust way, just have a look at our FieldCast 4K Custom Bundle.
We call it a Custom Bundle because you are free to compose the bundle yourself, customizing it to your need. We will simply grant you a 10% discount on the bundle of choice, making it even more cost-effective to use fiber optics in your live event production.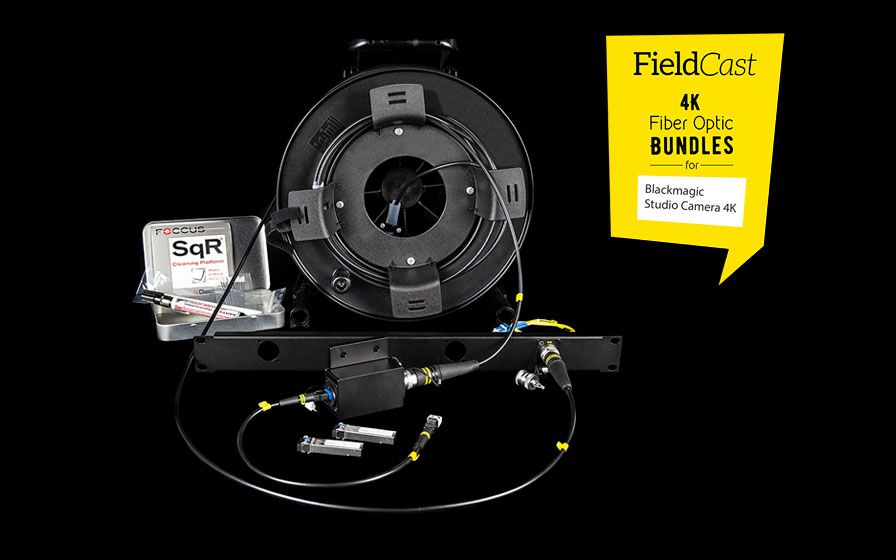 What's in the bundle?
The FieldCast 4K Custom Bundle should contain at least the
minimum number of products to get one BMD Studio Camera 4K up
and running on fiber. This is: 
a) 1x FieldCast Adapter Two;
b) 1x FieldCast 2 Core SM Main Cable 100m or 200m on drum,
Ultra Light or Heavy Duty cable;
c) 1x FieldCast 2C SM Chassis
Connector in a Panel;
d) 2x video SFP, one to put
in the fiber slot of the
camera and one to put in the ATEM Studio/Talkback converter;
e) 1x FieldCast Cleaning Kit (containing 10, 50, or 100 swabs).
Want to have more BMD Studio
Camera 4K running on fiber?
Just multiply a, b, c, and d by the number of
cameras (up to a total of
4).
What is the price of my custom bundle?
Want to know the Bundle
price? Just 
download the Bundle 
Calculator here

. 
You need Excel or a likewise spreadsheet program to open the file. Determine how many cameras
you want to 
run over fiber, choose which
cable you want to use,
go for 6G or
12G SFPs, and select a Cleaning Kit; the Calculator will do all the
math for
you.
How to set up the bundle?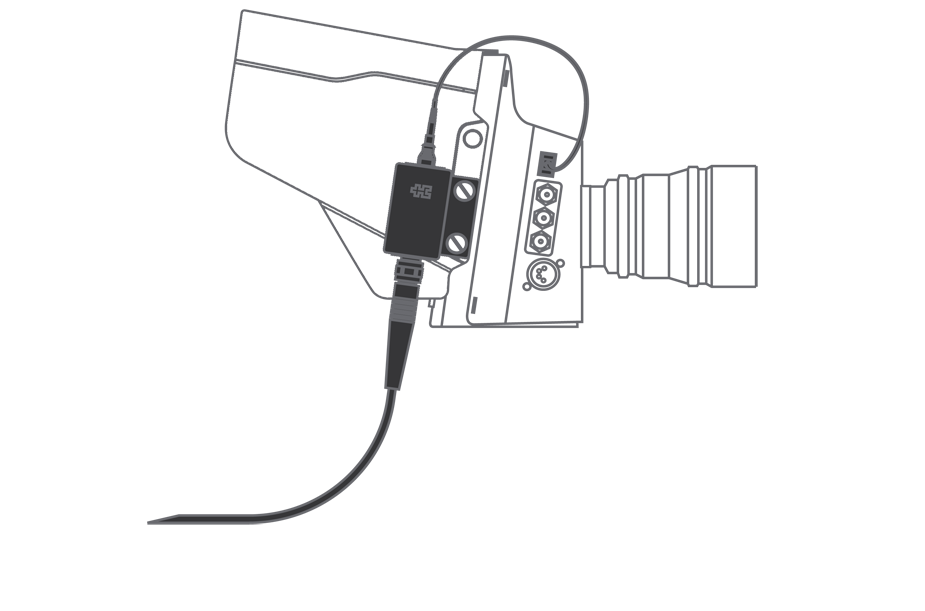 Features
With a FieldCast 4K Custom Bundle:
You have everything you need to get a maximum of four BMD Studio Camera 4K units running over fiber;
You transport signals over robust and flexible fiber optic cable, 100m or 200m on drum;
You have a sturdy fiber optic connection to the camera using our Adapter Two;
You have the right, fully compatible SFPs for both ATEM Studio Converter and Studio Camera 4K;
You can effectively clean all fiber optic connections with the cleaning fluid, pad, and swabs that are part of the FieldCast Cleaning Kit. 
Specifications
Specs Adapter Two:
milled out aluminum case, glass blasted, and anodized
color coded and FieldCast 2Core SM Chassis Connector with D-size flange
custom FieldCast ultra short bend insensitive patching cable inside
Senko LC Duplex connection with internal dust caps

30 cm. black LC Duplex patch cable for connecting to camera SFP

high bandwidth single mode 9/125 fiber technology

2 pairs of 1/4" screws for mounting with or without camera sunshade
dimensions adapter: 93 (L) x 45 (B) x 33 (H) mm.
weight including mounting plate 270 grams
hex keys and instruction manual included
product code: br004
Specs FieldCast 2 Core SM Main Cable:
two cores of protected fiber

single mode 9/125

outer cable diameter 4.8 mm (for Ultra Light cable) or 6.5 mm (for Heavy Duty cable)

color coded (two yellow rings for 2Core single mode)

cable length 100 meters or 200 meters in total

robust male cable connector on both sides

wound on Schill GT310 drum (for 100m and 200m Ultra Light cable and 100m Heavy Duty cable)

wound on Schill GT80 drum (for 200m Heavy Duty cable)

product codes: c0100/c1100/c0200/c1200
Specs FieldCast 2C SM Chassis Connector(s) in a Panel:
1.8mm. steel panel with rounded edges and black paint finish

standard 1RU panel size

four D-size (24 mm.) cutouts

horizontal punch spacing 105 mm.

one up to four FieldCast 2Core Chassis Connectors SM (single mode)
50 cm. patch cable outlets with LC Duplex connectors

bend insensitive cable quality for easy routing to Studio Converter

weight 620 grams

product code: br003
Specs FieldCast Cleaning Kit:
small bottle filled with isopropyl alcohol 

cleaning liquid
1 cleaning platform to clean LC connectors
10, 50, or 100 swabs to clean FieldCast cable connectors
10, 50, or 100 swabs to clean FieldCast chassis connectors
aluminum box 
weight 300 grams
product codes: c9510/c9511/c9512